1/27/2016

Gary Pinholster Clenches Division 63 Win on Lake Havasu
"I really expected someone to come in with 20-23 pounds!" That's what Gary Pinholster was thinking when he crossed the scales with his three bass weighing 12.31 pounds, taking the win for the Ram American Fishing Tour Division 63 Colorado River event on Lake Havasu, January, 9th. Fishing Thompson Bay South to just above Black Meadow Landing, Gary threw two types of soft swim baits, "It was real important that I tried the smaller baits to make sure that I wasn't missing any fish." Gary's keeper fish all came on the larger Renegade Shads. Gary's largest catch, a beautiful 5.05 pound largemouth came from over 27 feet of water, winning Big Bass honors for the tournament. Congratulations to Gary and all the anglers that competed in this tough Desert event.
1/18/2016

Jamey Black Wins at Lake Hamilton

The fifth tournament of the 2016 Ram American Fishing Tour Division 47 season was held at Lake Hamilton on January 16, 2016. Despite several cold fronts that have moved through the area in recent weeks, the warmer than average temperatures across Arkansas have kept the water temperatures in the low to mid 50's. Lake Hamilton bass are still scattered throughout the water column making it difficult for some to pin them down. However, as always, someone finds the better fish. 33 anglers caught 113 fish for a total weight of 247.18 pounds, more than a 2 pound average. A total of 16 five fish limits were brought to the scales.
1/14/2016

Ram American Fishing Tour Tournaments This Weekend
$70 Entry Fee
1/12/2016

Video of Andy Wicker Winning the 2015 Ram AFT Championship
1/12/2016

Bill Darby Wins on Lake Guntersville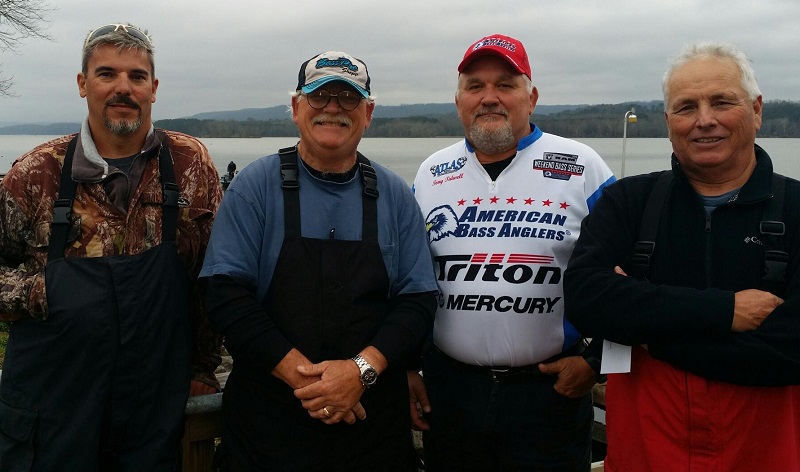 Bill Darby is one step closer to the Ram American Fishing Tour National Championship with a first place win during the RAM American Fishing Tour Division 29, Alabama North, bass tournament held on January 9th at Lake Guntersville. Darby's four fish were caught deep, weighing a whopping 18.26 pounds to beat out 23 other anglers. Mike Garlen Rat-L-Trapped a close second with 18.18 pounds. Rick Armstrong finished third and Tony Tidwell cashed the final check and caught a largemouth exceeding six pounds for fourth place and the biggest fish of the day.
1/07/2016

Andy Lake Solves the High Muddy Water Bite on Lake Greenwood
Andy Lake of Batesburg, SC won the Ram American Fishing Tour, South Carolina Division 96 tournament held January 3, 2016, on Lake Greenwood running out of Greenwood State Park near Ninety Six, SC. Fishing the middle of the lake, Andy, caught his fish on jigs and spinnerbaits in shallow water. Andy also took home the tournament big fish with a 6.23 pound largemouth, catching it on a jig. Andy's five fish, weighing in at 19.35 pounds, won first place, the big fish pot and the first place option pot for a total of $900.
1/04/2016

Charles Anderson Wins at Lake Weiss
Charles Anderson is one step closer to the Ram American Fishing Tour National Championship with a first place win in the Division 88 Alabama East/Central tournament held on Lake Weiss on December 19th. Charles brought in a sack of 19.86 pounds, caught on a spinnerbait. Second place winner Derrell Parker, and Third Place Ken Draskovic each caught over 19 pounds. Big bass was awarded Terry Tucker for catching a 5.76 pound largemouth.
1/04/2016

Tony Tidwell Crushes Competition on Lake Guntersville
Tony Tidwell is one step closer to the Ram American Fishing Tour National Championship with a first place win and big fish award during the Ram American Fishing Tour bass tournament held on Lake Guntersville, December 26th. Tony's five bass limit weighed in at 22.79 pounds with big bass at 5.08 pounds. Ken Draskovic placed second with 14.69 pounds, and third place was Jim Holsenback with 13.89 pounds.
1/04/2016

Clint Goodwin Takes Havasu Win
Two weeks ago, it took over 30 pounds to win a one day tournament at Lake Havasu; with the waters cooling nearly 10 degrees in a week these kinds of weights were not to be duplicated. Despite the rapid cooling, Lake Havasu City's Clint Goodwin still managed to bring 15.32 pounds to the scales to win the Ram American Fishing Tour Division 63 event on December, 19th. Goodwin caught three keepers throwing a Lucky Craft LV 500 Trap in a Striped Shad pattern on the upper lake before moving up into the river. Once there, Goodwin relied on his Jig fishing prowess to catch another six keepers staying out in the current and flipping a Phenix Brown Jig with a purple pork trailer. There were only two limits weighed-in making Goodwin's catch even more impressive during this tough event. Big Bass Honors went to Mark Wilkenson who brought a beautiful 4.47 pound bass to the scale for his first American Bass Anglers events.
12/23/2015

Curtis Sanders Wins 2016 Ram American Fishing Tour Division 94 Opener
Curtis Sanders, won the 2016 Division 94 Ram American Fishing Tour opening tournament held on 12-12-15 on the Savannah River. For the first place win, Sanders earned a total of $451. Sanders weighed in a five bass limit of 5.64 pounds. Second place went to Dale Hart with three bass weighing in at 3.93 pounds. Third place winner, Wayne Ackerman brought in two bass weighing 3.63 pounds. Fourth place went to Barry Descaro with two bass weighing 2.50 pounds. Fifth place, with two bass weighing 2.29 pounds went to Deb Robinson. Big bass honors were awarded to Wayne Ackerman with his bass weighing 2.30 pounds.