Maze Wins 2016 Division 126 Opener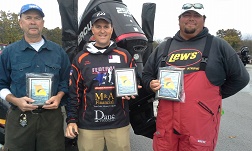 Lamar, MO angler, Byron Maze, took the win at the 2016 Division 126 season opener held on October 31, 2015 at Stockton Lake. Maze brought in a fivefish limit that weighed 11.08 lbs and won $543 for his efforts. Second place went to Tracy Mitchell with a five fish limit weighing 9.82 lbs earning him $329; third place was Carl Cox weighing in at 9.79 lbs and taking home $108. Big Bass paid $200 and went to Girard, KS angler, Mark Moody.

Anglers reported catching fish deep and shallow, using spinnerbaits, jigs, crankbaits, finesse worms, and top-water. A lot of short fish were caught, but only four competitors brought in a five fish limit.

The tournament started at 7:30 a.m., in a light mist with light wind. The mist gave way to overcast skies around noon. The wind varied from southwest to south, then diminished and came from the southeast.

This was the first in a series of tournaments conducted by American Bass Anglers Division 126, all held on Stockton Lake. The Ram American Fishing Tour is a draw format designed for the week-end angler, boaters and non-boaters from age 14. An ABA membership fee of $25 per year is required and allows those anglers to fish any ABA tournament. Entry fees for division 126 tournaments are $70 per angler with a $10 Big Bass optional pot.

The next tournament for this division will be held November 21, 2015 on Stockton Lake using Old State Park as the launch site. The full 2016 schedule can be seen at www.centralmidwestbass.com. The season will culminate with a 2-day Championship set for August 27-28, 2016. Anglers fish each tournament for cash and prizes from area sponsors including Pete's, the Outboard Doctor, Albers Marine, Happy O's, Cabins on the Lake, and Antlers Ridge, as well as points that qualify them to fish the Ram American Fishing Tour National Championship to be held on Lake Eufaula, AL October 18-22, 2016.

More information about American Bass Anglers can be found at www.americanbassanglers.com or by calling (256) 232-0406. Call Becky with any questions at 316 644-1454.