David Griswold Brings Home the Win for Ram AFT Division 25
The weather was nice with temps in the lower 70's. Water temps were around the 60-63 degree mark for the Ram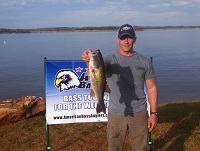 American Fishing Tour Division 25 event on December 13th, 2015 at Lake Hartwell.
The fishing was tough for most as it only took a little over ten pounds to win. David Griswold of Woodruff, SC took the win with five fish weighing in at 10.12 pounds. David also won the big fish of the tournament with a 3.95 pound largemouth. David reported catching fish shallow on a Spinnerbait to take the win.
Finishing in second place was Bill Pinion of Fair Play, SC with a four fish limit weighing 7.39lb. Bill reported catching fish a spoon type bait.
1.David Griswold 10.12 pounds
2.Bill Pinion 7.39 pounds
3.Sam Naib 7.29 pounds
4.Richard Presnell 6.73 pounds
5.Kim Neal 6.38 pounds
Big Fish David Griswold 3.95 pounds
Division 25's next tournament will be February 21st, 2016 on Lake Hartwell launching out of the Green Pond Facility. For information about Divsion 25 and future events visit Americanbassanglers.com or contact the local director, Grover Jones, at (864)231-0214.

These anglers are earning valuable points toward the divisional angler of the year title. The points champion from each division will compete in the annual Ram American Bass Anglers AFT Angler of The Year Final Round at the Ram American Fishing Tour National Championship.

The Ram American Fishing Tour offers low cost, close to home bass tournaments that are designed for the weekend angler. All ABA anglers fish for money and points. The points advance the angler to their divisional championship and the top 500 anglers in the US are invited to the Ram American Fishing Tour National Championship.